Vinchin Blog
Vinchin Awarded G2 Users Love Us Badge and High Performer in Fall 2022
Vinchin Awarded G2 Users Love Us Badge and High Performer in Fall 2022
2022-10-17 | Echo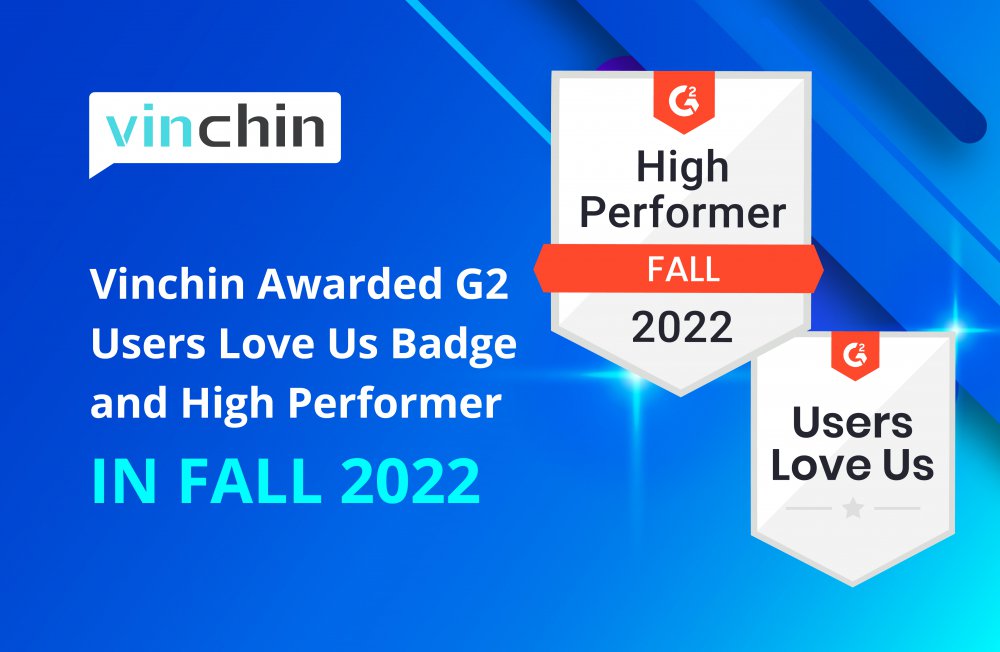 Users love us! And it's what our customers said on G2, the leading review platform for business solutions attracting 3 million readers globally.
What do these awards say?

Users Love Us
Customer reviews reflect whether the product has been recognized on the market. Since this "Users Love Us" badge is earned by consistently receiving positive feedback from customers, which in turn showcases that our clients are highly satisfied with our services and backup solution.
To get the award, one has to collect at least 20 views with an average rating of 4.0 stars, and we get a 4.6 out of 5.0 stars rating for our efforts to innovate the solution at a torrid pace based on advanced technologies and deliver high and fast services for users worldwide.
High Performer Fall 2022
Meanwhile, we obtain a High Performer Fall 2022 nomination following the High Performer in G2 Summer 2022 Report. This recognition from G2 requires a thorough analysis of customer satisfaction scores and market performance.
Reviewers on G2 rate us 9.5 for ease of use, 9.6 for quality of support, and 9.0 for ease of setup out of 10, which are above average overall.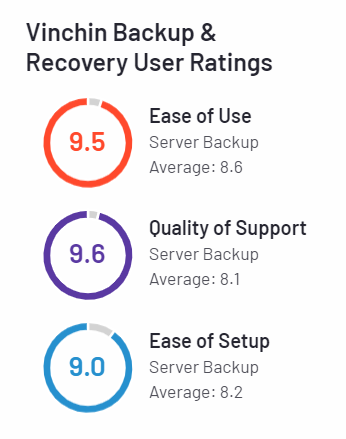 Hear from our users
We understand more about customers' needs, improve customer services, and update the product in their best interest through their honest feedback, and at the same time, we are able to keep moving forward on the way to one of the best backup solutions in the industry.
We cherish every user insight and if you are using Vinchin solution and want to give us feedback or advice, please visit our G2 page to submit your voice.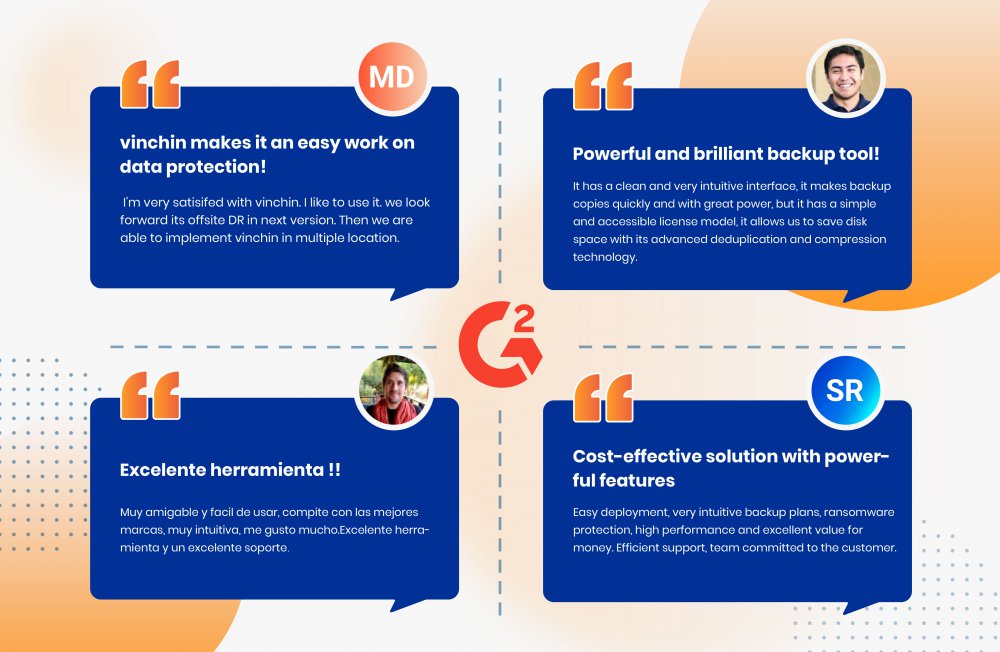 Why do customers love us?
Vinchin Backup & Recovery is successfully deployed in 100+ countries across 20+ industries to facilitate virtual machine backup and recovery and guards data against data loss accidents. By using the software, Vinchin users significantly cut down data protection costs, system downtime, and administrative workloads.
Compatible Agentless Data Solution: Vinchin Backup & Recovery supports the agentless backup and disaster recovery for 10+ virtualizations like VMware, Hyper-V, oVirt, Citrix Hypervisor (formerly XenServer), XCP-ng, Red Hat Virtualization, Oracle OLVM, Sangfor HCI, OpenStack, etc., 6 databases, Linux & Windows Servers, and NAS.
Automated Backup with Smart Strategies: You can automate the backup process with preset backup schedules and email notifications while making it easier through data reduction techniques and multiple backup options (Full, Differential, and Incremental) via specialized transmission modes.
Cross-Platform V2V Migration: Allow the smooth V2V migration across 10+ platforms the software supported by simply recovering the source virtualization to the target platform in 4 steps.
Anti-Ransomware Protection: Get your data fully prepared facing ransomware threat actors with various data protection techniques of Vinchin, such as frequent data backups, data archiving to the public cloud, anti-malware backup storage, encrypted transmission, and more.
15s Instant Recovery: Restore your critical data directly from local backups or Offsite Backup Copy saved in another location to minimize computer downtime while ensuring seamless business continuity in seconds.
Looking for a VM backup solution? Here's a 60-day free trial version available below.
I agree that Vinchin can contact me by email to promote their products and services. I can unsubscribe at any time.
Thanks for subscribing! A confirmation mail has been sent to your mailbox, please check within 48 hours.
Get more ideas from Vinchin