News List
New Feature in Vinchin Backup & Recovery v6.5: Database Backup and Restore
New Feature in Vinchin Backup & Recovery v6.5: Database Backup and Restore
2021-10-28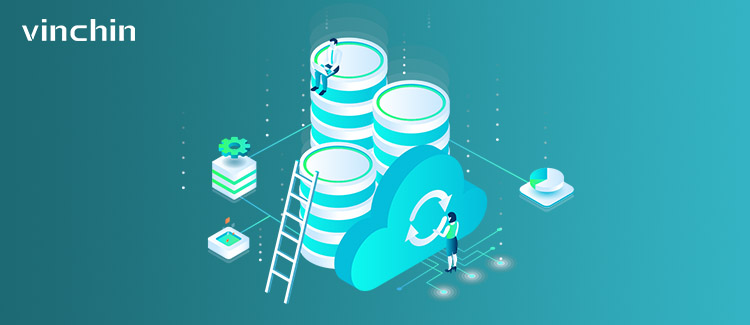 Growing with office automation and business digitalization, more and more enterprises now rely on IT for more agile service management. As the core of modern IT infrastructure, databases play an important role especially in industries that require high data reliability like banking, securities, telecommunications, etc., for which data loss can be devastating. Regarding this, their DBAs usually need to set very strict backup and DR (disaster recovery) strategies to meet specific business and security requirements.
To make things easier, Vinchin Backup & Recovery v6.5 delivers powerful functionality to protect your databases in both virtual machines and physical servers. By cooperating well with VM-level backups, dual insurance is given to the users of virtual environments for their key business data and information systems.
Key Features
Multi-types Database Support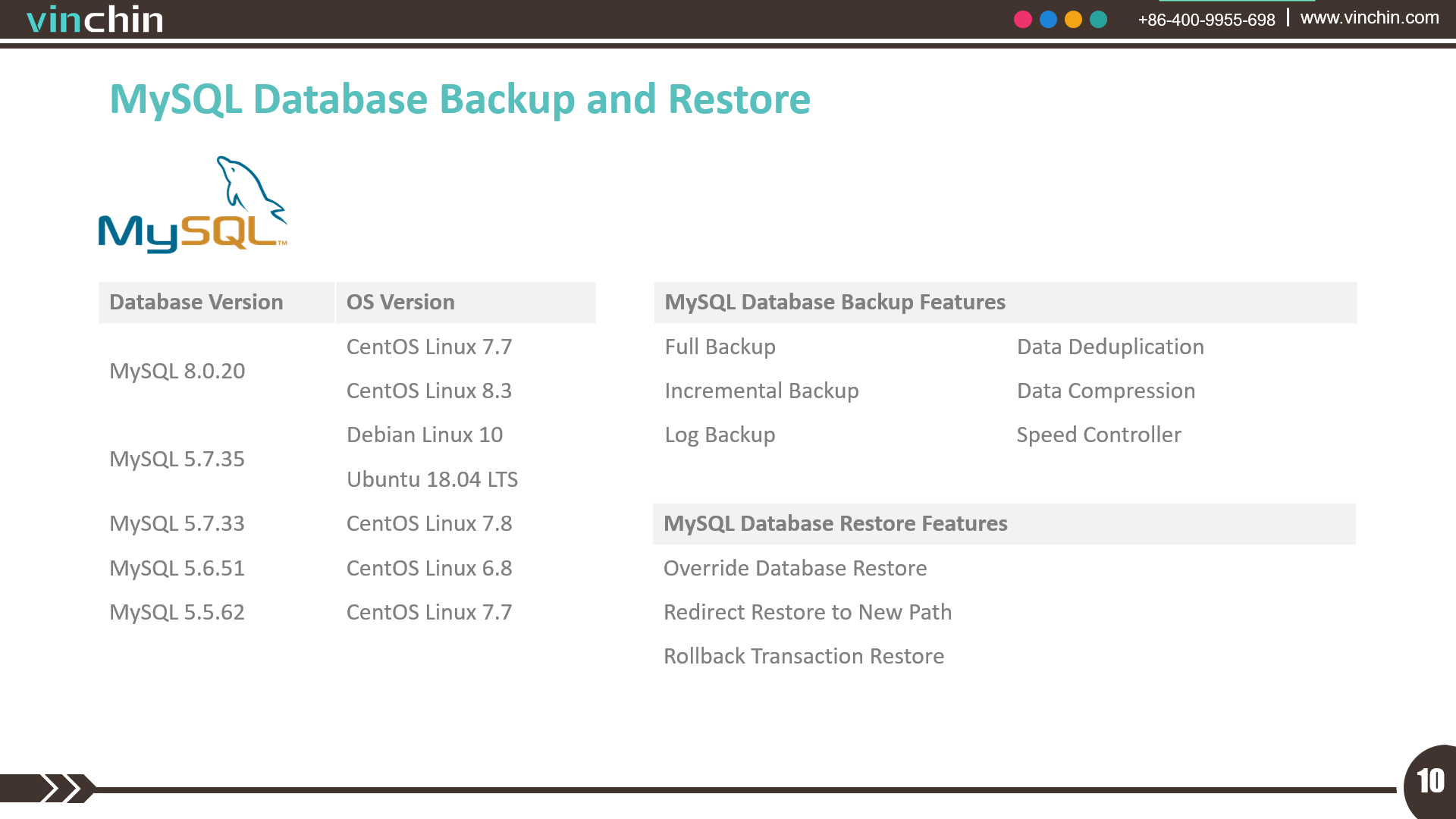 Vinchin Backup & Recovery v6.5 calls APIs of MySQL, SQL Server and Oracle to give comprehensive protection for all three most mainstream databases. The software works under the premise of ensuring database consistency, which guarantees the backups to be exactly the same as the original data in your production environment. You can easily restore them to any destination you want including the original database, a new database, or a specified folder, adding more flexibility, security, and convenience to database protection.
Advanced Backup Configuration
Besides supporting fundamental backup of databases, some advanced features are also available in Vinchin Backup & Recovery v6.5.
For Oracle, you can set multi-threading transmission to improve backup and restore efficiency. In addition, Vinchin Backup & Recovery v6.5 also simplifies RAC(Real Application Clusters) backup for users in need. After installing Vinchin database backup agent on all RAC nodes, you only need to authorize one instance, and the information will then automatically be synchronized to the rest nodes. Also, if some nodes in a RAC fail in the backup job, the job will be automatically transferred to other nodes to process. In this way, DBAs' operation workloads for RAC protection can be effectively minimized.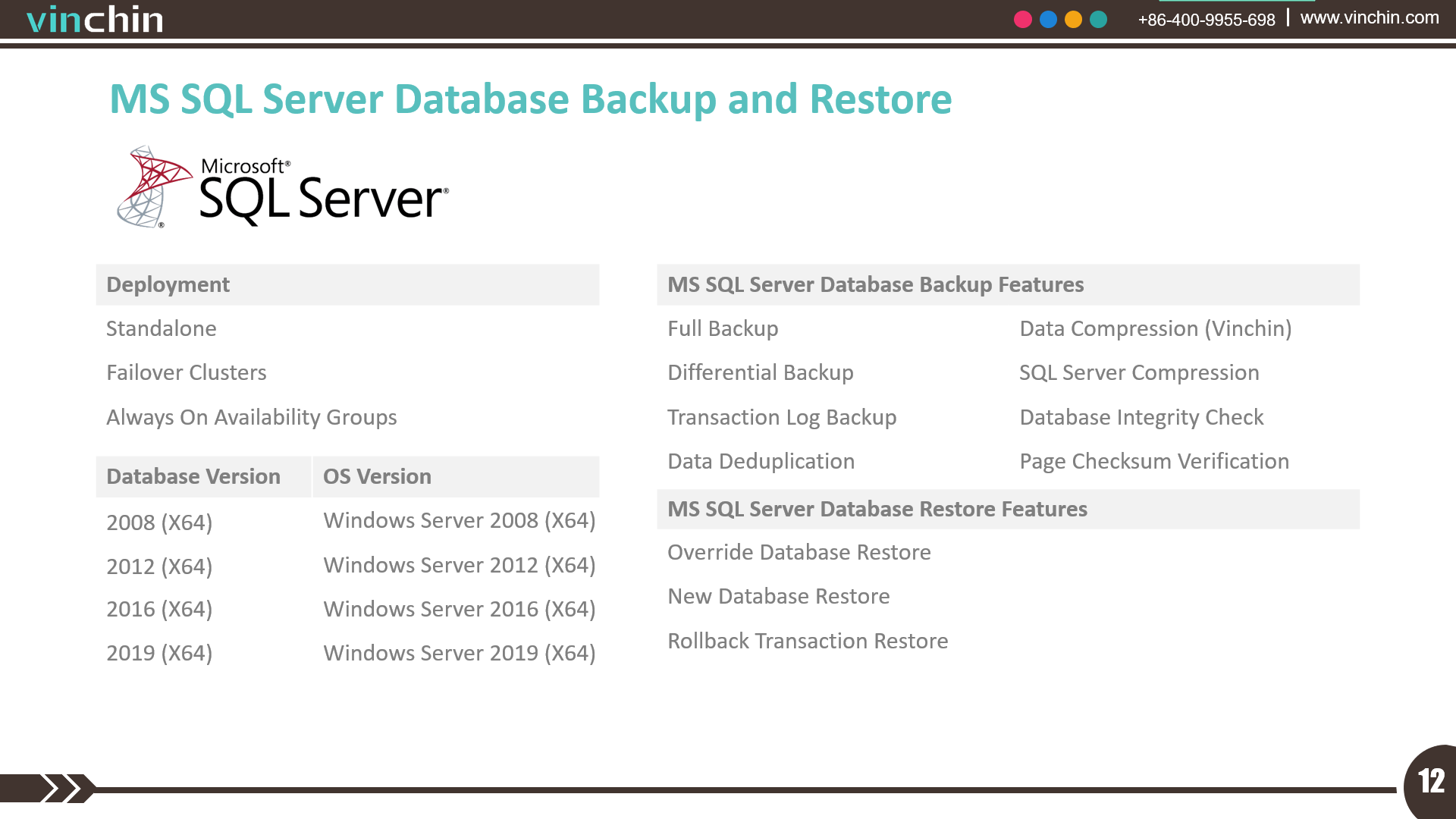 For SQL Server, Vinchin Backup & Recovery v6.5 can run backups along with the database's built-in tool to auto-check the consistency of database content, ensuring database backups are highly available.
Smart Backup Strategies
Using Vinchin Backup & Recovery v6.5, you can set your own database backup plan with full backup, differential backup, incremental backup and transaction log backup strategies it offers. Having frequent database backups makes critical data always recoverable when your production database fails. You can use restore point of full backup, incremental backup and differential backup to recover the database to the status when the backup job is done, and restore point of transaction log backup to recover the database to the status at any time point recorded by the log.
Database Backup Compression
Just like supporting VM backups, the data compression feature designed by Vinchin also shows its value during the database backup process. Without affecting CPU performance of your production environment, the built-in compression feature of Vinchin Backup & Recovery v6.5 is capable of reducing the size of your database backup by near 70%, which greatly improves backup storage usability and backup efficiency.
Key Benefits
High Backup Efficiency, Minimal Resouces Consumption
Vinchin Backup & Recovery v6.5 utilizes Oracle RMAN+SBT mechanism, SQL Server VDI mechanism and MySQL hot backup tool to achieve efficient hot backup of the three database types. Another copy of the database in the production environment is usually required in legacy backup scheme which is carried out by the database system itself, but not with Vinchin Backup & Recovery v6.5. Based on streamlined workflow, the database you want to protect will be transferred directly to the Vinchin backup system, minimizing unnecessary utilization of production storage.
Cost-Saving Deployment, Simplified Management
With Vinchin Backup & Recovery v6.5, Oracle, MySQL, and SQL Server in the physical servers and virtual hosts can all be protected via one single platform. Even if you deploy more than one database type in your IT infrastructure, you don't need to use multiple solutions to have each database backed up, which effectively saves software deployment and management costs. Designed for simplifying the management of database protection, the web-based console is the only thing you need for overall control of the software. Whether it is to authenticate database nodes or configure automated backup and recovery jobs, you can simply get your tasks done within minutes through a single pane of glass.
Get your database fully protected in minutes with the efficient, reliable and out-of-the-box database backup and restore features Vinchin Backup & Recovery v6.5 provides.
DOWNLOAD NOW
YOU CAN ENJOY A 60-DAYS FULL-FEATURED FREE TRIAL !