News List
Iran's Steel Sector Targeted by Cyberattacks as Conflicts with Israel Deepen
Iran's Steel Sector Targeted by Cyberattacks as Conflicts with Israel Deepen
2022-06-29
One of Iran's largest steel businesses, Khuzestan Steel Company, claimed Monday that it was forced to suspend production after being hit by a cyberattack that also targeted two other plants, marking one of the country's vital industrial sector's most serious ransomware attacks in recent memory.

Khuzestan Steel Company confirmed on Monday morning that it had shuttered its factory for the time being owing to technical challenges caused by a cyber intrusion. Later, a video was posted on Twitter by the hacker group Gonjeshke Darande, which has previously attacked Israeli-linked Iranian infrastructure. The video claimed to have compromised Iran's major steel companies-Khuzestan Steel, the Moborakeh Steel Company, and the Hormozgan Steel Company.
Gonjeshke Darande said in the video that their attacks against these companies are "in response to the aggression of the Islamic Republic" and posted pictures showing the internal infrastructures of companies impacted.
The Iranian authorities refused to recognize the disturbance or assign responsibility for the attack to any one party. But its state-own steel company Khuzestan claimed that cyberattacks forced the factory to halt operations until further notice because of "technical problems." At the time of writing, the business's website was still unavailable.
Khuzestan Steel's CEO, Amin Ebrahimi, asserted that the company was able to foil the hack and avoid production disruption that would have affected supply networks and clients. He made no mention of the explosion that was captured on camera by the hacker group.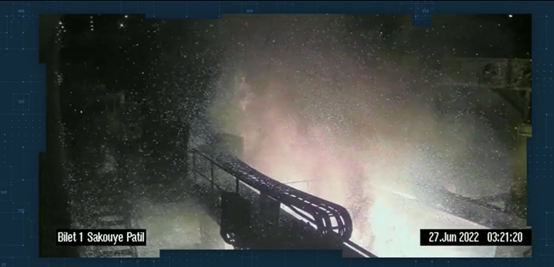 Iran has experienced an increase in the frequency of cyberattacks in recent years. An important incident that occurred last year involved a hack that halted Iran's fuel delivery infrastructure, which resulted in long lineups of irate drivers at gas stations throughout the nation. The country's tail way network was brought to a standstill because of a similar attack.
The list goes on and on.
Security threats and ransomware attacks run wild in this increasingly internet-connected world where cyber security is a necessity for businesses and organizations of all sizes. But hackers are the element of surprise, we don't know when, how, and where they get us. Does this mean that we could only stand by as spectators in the face of such attacks?
Of course, no. Organizations and companies have so much to do to prevent the incidents in the news above. For instance, strengthen IT firewalls and install applications against internet viruses. Complicate our passwords with different combinations. Secure the account with dual authentication. Audit the system periodically. And above all, save our data and other copies and keep them in different media and locations. That will buy some time for companies to make the broken workload functional.
Then, how are we going to do that? There are plenty of professional backup vendors on the market. Vinchin Backup & Recovery is one of them. It's a combination of data backup, recovery, and v2v migration.
Quick backup: Vinchin Backup & Recovery supports the swift backup of 11 virtualizations (VMware, Hyper-V, XenServer, etc.) through LAN-Free/HotAdd/SAN and more transmission modes for different platforms to perform easy and fast data backup. CBT/SpeedKit help to speed the process up further by backing up changed data blocks.
Safe guarantee: The software has unique backup storage protection that encrypts backups with a bank-level algorithm and protects them from any unauthorized visits that are likely to be malware, ransomware gangs, and hackers. Even if they obtained the data illegally, they cannot look at the data contents.
Reliable recovery: Full VM recovery restores the whole crashed VM; instant recovery gets a corrupted workload back to work in 15s, and granular recovery retrieves specific files to save time and resources. You can customize them based on your business needs. The offsite backup copy stores a copy of backups in another location for minimum downtime.
V2V migration: Vinchin Backup & Recovery allows cross-platform data migration between multiple virtualizations. Simply select the target virtualizations as the source and destination of full/instant restore, and you can achieve an effortless v2v migration between the two platforms. Not only you can slash the RTO tremendously and save your brand, but you can also manage them in one console.
To wrap up:
Cyber security is a tropical theme in all walks of life since we are in an era of instant information and digitalization. Nobody or institution could be spared from such internet threats. Only by building a systematic backup and DR plan can we avoid being the victims on the list. Act now and leave a way out.
DOWNLOAD NOW
YOU CAN ENJOY A 60-DAYS FULL-FEATURED FREE TRIAL !