Performing high VM backup efficiency both in a standalone XenServer/Citrix Hypervisor host and pool environment, Vinchin Backup & Recovery helps to realize seamless data protection through best practices.
Highlights of Vinchin Backup Solution
VM Backup Automation
Automated VM backups with flexible backup scheduling options
Agentless Backup
Easier installation, less resource consumption and maintenance cost
LAN-Free Backup
Direct data transfer though SAN, 0 production network consumption
Changed Block Tracking (CBT)
Faster incremental backup for XenServer VMs
Instant VM Recovery
Shorter RTOs to 15 seconds via NFS Mounting
Unified Web Console
Simplified VM backup & recovery job management
What you get for XenServer with Vinchin Backup & Recovery

Improved SLAs
Minimize RTO in 15 seconds to ensure optimal business continuity by implementing Vinchin instant recovery, meeting the requirements for rapid takeover in high-speed business digitalization process.

Effortless Xen Backup
Easily deploy this packaged data security solution with many Vinchin unique features to realize smart backup, instant restore and effective cloud archive all at once to fully experience streamlined data protection.

Business IT Optimization
Continuously protect your entire XenServer/Citrix Hypervisor environment through agentless backups with less production resources required, while the finely designed web UI allows you to monitor jobs centrally for best IT operation.
Key Features
Forever Incremental Backup
A backup strategy performs full backup only once and incremental backups forever. You can also fully utilize CBT technology for it to quickly identify the data block changes of VM disk during the backup process, which profoundly drives VM backup efficiency to reach a higher level, the optimum way to ensure data consistency with least time and backup storage cost.

Instant Recovery
In case system failure or unavoidable disaster hits your VMs on primary data center, you can still ensure the continuity of key business by recovering the target XenServer VMs up and run again in 15 seconds with Instant Restore feature. The restored VMs on production host can be able to access backup data in the backup repository just like accessing its own local file system.

Deduplication & Compression
These are two powerful data reduction features that can't be overlooked during the process of XenServer backup regarding the significant storage-saving results they can bring. Deduplication works to detect duplicate data blocks especially the zeroed data blocks, and only back up unique data blocks, and store unique data blocks only, and compression works to minimize backup data size. Therefore, backup efficiency can be greatly improved and the use rate of backup storage can be maximized.
Flexible Node Expansion
For a relatively large XenServer environment, you can expand your backup environment on demand to suit business growth by adding new backup nodes. In this way, your data can be backed up distributedly to multiple backup servers at the same time, and easy and centralized nodes management can be still realized through the single web console without extra interface and extra cost.
BitDetector
BitDetector is an advanced data reduction technology uniquely designed by Vinchin to further reduce the backup size of XenServer VMs. It works to exclude swap files, partition gap and unpartitioned space in order to only remain 100% valuable data in the backup servers. So that the valuable data ratio in your XenServer backups can be significantly improved with less backup storage being taken.
File-level Recovery
Vinchin Backup & Recovery provides granular restore feature to search and recover target files or specific folders instead of the entire XenServer VM, fixing partial soft breakdown on point, and helps to find target files back by recovering XenServer VM to any restore point before mistaken deletion. Being full independent, no impact will be made on the scheduled full XenServer backups if you boot granular restore when critical files are urgently needed.

Archive to Cloud
Strictly following the best 3-2-1 backup rule, Vinchin Backup & Recovery calls the API of Alibaba Cloud, AWS S3, Wasabi and more other mainstream cloud storages for users to save another organized copy of XenServer backup for long-term data retention. Furthermore, having backup copies on cloud allows you to deploy effective XenServer disaster recovery by transferring data back to the local or offsite backup storage.

Offsite Backup Copy
For business, it's essential to have multiple XenServer backup copies in both primary and remote sites for disaster recovery purposes. With Vinchin Backup & Recovery, you can also easily build an offsite disaster recovery (DR) center by duplicating XenServer backups at the primary site to a remote site or external storage, fully prepared for the worst situation when both local production and backup environment are damaged.
Supported Platforms for Citrix XenServer Backup
Citrix XenServer 7.6
Citrix XenServer 7.5
Citrix XenServer 7.4
Citrix XenServer 7.1
Citrix XenServer 7.0
Citrix XenServer 6.5 SP1
Citrix XenServer 6.5
Citrix XenServer 6.2 SP1
Citrix XenServer 6.2
Supported Platforms for Citrix Hypervisor Backup
Authorized Citrix Partner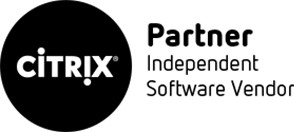 Vinchin is an authorized Citrix XenServer independent software vendor Partner. By combining Citrix XenServer virtualization solution with Vinchin Backup &Recovery, customers can realize high availability and business continuity easily, the same time save a lot of money.
Vinchin Backup & Recovery which is an excellent virtual machine backup software has passed the Citrix compatibility certification test and gained the Citrix Ready. Which means Vinchin backup & Recovery can seamlessly integrate with Citrix XenServer virtual infrastructure.
We win trust from global brands
Top Reasons to Choose Vinchin Backup & Recovery
Simplified Data Protection
Automated VM Backup
Vinchin Backup & Recovery offers flexible backup scheduling options for users to set full backup, incremental backup, and differential backup jobs to automatically run at daily, weekly and monthly basis, realizing smart XenServer backup process to minimize manual backup configuration workloads for users.
Easy Granular Restore
When you accidentally delete some files in the XenServer VM, will full VM recovery be the only choice for you at the moment to get things better? If so, Vinchin Backup & Recovery is here to break this stereotype with real file-level recovery. You can quickly recover the missing part by choosing the target files or folders you want from any restore point which is saved before the deletion.
Streamline Full VM Recovery
With Vinchin Backup & Recovery, you can easily recover an entire XenServer VM in a straightforward way. Simply go through three steps, choosing the restore point, restore destination and restore strategy you want, all backup data in a single VM will be directly transferred from the backup depository to your primary or local site within a very short period of time.
Higher Backup & Recovery Efficiency
CBT & Vinchin SpeedKit
As legacy incremental backups usually take lots of time for the traversal of the whole file system, the utilization of CBT (Changed Block Tracking) technology has never become so important. With Vinchin Backup & Recovery, you can easily enable the CBT feature, or the powerful Vinchin SpeedKit designed as the powerful CBT alternative based on the comparison of external and internal snapshots to quickly identify the data block changes for faster incremental XenServer backups.
LAN-Free Data Transport
To shorten the backup window, Vinchin Backup & Recovery supports XenServer backup and recovery via LAN-Free path (FC, iSCSI, and NFS storage area network) with 0 production network resource consumption, so that high volumes of data can be transferred at high speed even it's in business hours.
Vinchin Instant Recovery
Vinchin Backup & Recovery offers instant restore feature to shorten RTOs in 15 seconds by mounting the backup storage to a production host via NFS. A new virtual disk image will be virtualized based on the original backup file and be shared with the newly created XenServer VM in the production host, guaranteeing business continuity in case any system errors, malicious attacks or unavoidable disaster happens.
Improved TCO
Agentless VM Backup
XenServer backup solution from Vinchin requires no agent installation within each virtual machine. By fully taking advantages of the snapshot and image-based backup technologies, Vinchin Backup & Recovery is able to perform reliable full VM backup agentlessly with much less computing resource consumption and maintenance cost.
Best Storage Saving Results
Vinchin Backup & Recovery uses multiple data reduction technologies to effectively reduce the size of your XenServer backup data for optimized backup storage utilization. Deduplication features helps ensure only unique data blocks are saved, and compression feature is able to release at least 50% of your original incremental backup data size. Furthermore, we also offer Vinchin BitDetector feature for deeper data extraction to minimize the cost for backup storage expansion.
Unified Web Console
Vinchin Backup & Recovery integrates all functionalities into a single web-based management console to save your most valuable time. You can easily configure any kind of XenServer backup and recovery jobs wherever you want in few minutes. In the built-in visualization interface where records Vinchin backup server running status in real time, you can get a quick overview of the whole system with clear statistics including the number of protected VMs, backup storage and backup node usage, and current job details.
Enhanced Data Availability
Archive Backups to Cloud
For long-term data retention, Vinchin Backup & Recovery also supports to archive backups to cloud including Alibaba Cloud, AWS S3 and all S3 compatible storages. Having archived backups can further optimize the security level of your infrequently used yet valuable data, and also compliance with data regulation policies. Furthermore, it can be also used as a highly available data source to effectively recover your XenServer VM in the primary site.
Backup Copies at Remote Sites
Always have multiple backup copies at different locations is important to ensure high data availability, in case any accident happens in the primary site. With Vinchin Backup & Recovery, you can fully utilize offsite backup copy feature to achieve this goal. It will help transfer the duplicate copy of your XenServer backup data to both remote site and secondary storage as a reliable resource for disaster recovery.
Resources for XenServer Backup
Product Guides
Materials for you to quickly get started with Vinchin Backup & Recovery
How-to Video
Learn how to backup and recover your XenServer with Vinchin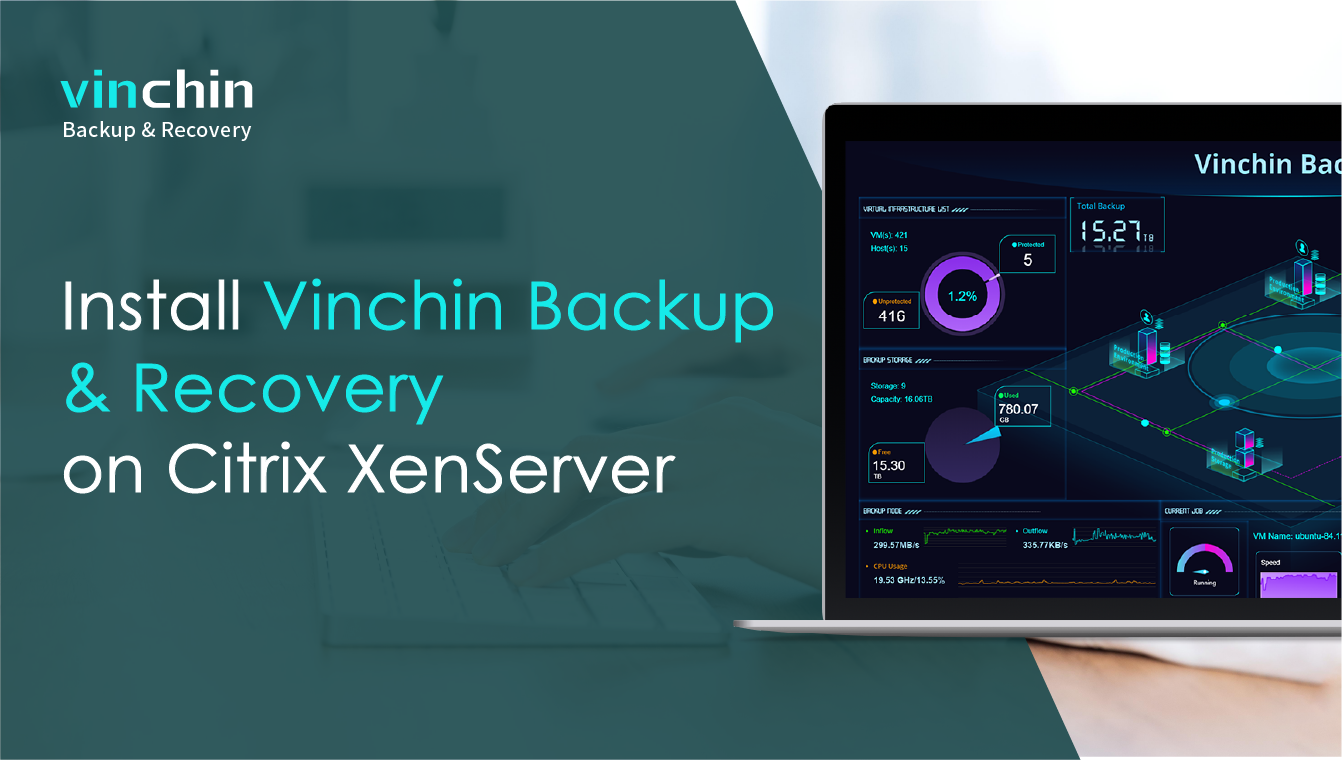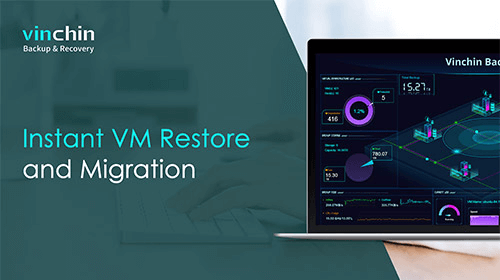 Industry Case Study
See how we help our industry customers optimize XenServer Backup & Recovery
Frequently Asked Questions
Tips about XenServer Backup you want to know when using the product
Find the best Vinchin solution for your XenServer Protection
To suit a wider array of business needs, we provide flexible edition and license options of our customers.
We got multiple product editions here!
We got multiple product editions here! Free Edition applies to micro-businesses who has only 1 or 2 VMs need to back up. Protects up to 3 virtual servers running on XenServer hosts.
Standard Edition applies to SMBs who needs enterprise level data protection for their XenServer Infrastructure, requires advanced backup and recovery features.
Enterprise Edition applies to medium and large organizations who own comprehensive and complex IT infrastructure.
Which license type do you prefer?
A Vinchin Perpetual License means one-time pay, forever use! You can enjoy complete VM protection from Vinchin Backup & Recovery without limitation of time. It is sold by the number of physical CPU sockets on target hosts.
A Vinchin Subscription License allows you to subscribe the Vinchin Backup & Recovery every per 1-3 years to balance your budget. It is subscribed by the number of virtual machines that you need to protect.
Edition Comparisons for XenServer Backup
Find the best edition that suits your need most
Free
Up to 3 VMs
VM Backup
Full VM Recovery
Integratable with Deduplication
Appliance
DOWNLOAD FREE
Standard
Up to 10 sockets/100 VMs
Forever Incremental Backup
CBT & SpeedKit
Deduplication & Compression
BitDetector
LAN-Free Backup
Instant VM Recovery
Full VM Recovery
File Level Recovery
Backup Copy
Integratable with Deduplication
Appliance
LEARN MORE
Enterprise
Unlimited Protection
Forever Incremental Backup
CBT & SpeedKit
Deduplication & Compression
BitDetector
LAN-Free Backup
Instant VM Recovery
Full VM Recovery
File Level Recovery
Backup Copy
Backup Archive
Integratable with Deduplication
Appliance
LEARN MORE
Pricing FAQs
Some answers to the most common questions about pricing
Which hosts are required to be licensed in my virtual environment?
Licenses are required only for the hosts you intend to backup. The hosts on which you want to recover VMs does not need to be licensed.
Do you offer volume discounts?
Yes, single order amount exceeds US$10,000, you can get a discount from Vinchin. The larger the order, the higher the discount. Please contact sales@vinchin.com or Vinchin sales manager for a discount details.
What are the international taxes, duties, etc. that I have to pay?
You don't need to pay any additional international taxes, you only need to pay the import tax according to your local tax policy if there's any.
What's the purchase procedure?
1. Contact Vinchin sales manager to confirm your purchase.
2. Receive contract & invoice from Vinchin by email.
3. Sign on the contract with your company stamp and send it to Vinchin by email.
4. Receive Vinchin signed contract and submit the payment transfer, once done, send transfer proof to Vinchin by email.
5. Once we receive your payment, Vinchin sales manager will contact you to deliver license by email. (Bank wire transfer usually takes 3-5 working days, Paypal/AliPay/WeChat Pay usually takes 1-2 working days)
Want a free trial first?
Download the Full-Featured Trial Version
Easy to use, reliable, and affordable VM backup solution for VMware, Hyper-V, XenServer/XCP-ng, RHV/oVirt, Oracle OLVM, Sangfor HCI etc.
* 60-day free trial with all features unlocked
* No credit card required
* Get started in 10 minutes
* Submit the form to get the download link and license key now, and get complete data protection started in 10 minutes
Free Download Vinchin Backup & Recovery
REQUEST DEMO
Learn more details about how Vinchin and XenServer work together for better business experience.
REQUEST PRICE
Interested to buy Vinchin Backup & Recovery? Request a quote here, we will contact you soon with pricing details.