Designed to provide seamless data protection for modern IT environments, Vinchin Backup & Recovery builds a solid backup system by supporting users archive critical backups to Amazon S3, a highly scalable cloud storage, to extend the greater possibility of digital business operations.
Why Choose Vinchin for Cloud Archive
Vinchin delivers high-quality services for complete data protection

Simplified
Streamline cloud archive operations with fully-automated functionality
Secure
Build a solid 3-2-1 backup architecture with multi-type cloud object storage

Affordable
Establish your own data protection center on cloud in a cost-effective way
Highlight Features
How Vinchin Backup & Recovery brings ease to VM-level cloud archive

Automated Cloud Archive
Vinchin Backup & Recovery can automatically archive on-premises backups to Amazon S3 on a once-off, daily, weekly, or monthly basis, and you can schedule the timetable on demand.

Web-based Console
Vinchin Backup & Recovery simplifies archive management with one web-based console. You can configure archive jobs and manage archive data through a single pane of glass.

Simple Full VM Restore
You can easily recover archive data from Amazon S3 to the primary backup repository with Vinchin Backup & Recovery, and use it for quick VM recovery after simple configurations.

Data Encryption
Vinchin Backup & Recovery leverages bank-level algorithm to encrypt initial backup data before creating archived copies to Amazon S3, preventing data leakage at the start.

Smart Retention Policy
You can set a suitable retention plan on demand by the number of restore points, always making space in Amazon S3 storage for the most recent archive data.

File-Level Recovery
Combine Archive Restore with Granular Restore, you can fully utilize archive data on Amazon S3 by transferring it back to the backup storage and recovering a single file or folder to the target VM.
Key Benefits
How Vinchin meets what you consider most in data protection
Improved Data Availability
Saving extra backup copies on cloud object storage guarantees high data availability because it effectively prevents data loss from system failure or site damage in the primary production environment. Vinchin Backup & Recovery calls Amazon S3 API to help virtualization users easily realize cloud-based data protection. By archiving backups in the local backup repository to Amazon S3, you can make sure all critical data is always accessible and can be recovered anywhere, anytime you want. Restored archive data can be used in Full VM Restore, Instant VM Restore, and Granular Restore to effectively fix different types of urgent issues in the production environment.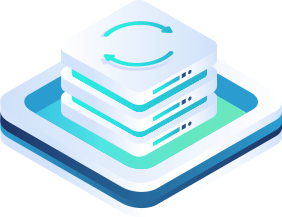 Data Retention Policy Compliance
Public cloud archiving stands as the best cold data storage approach in enterprise-grade data protection, due to its high flexibility and security. For your important yet rarely accessed parts of data, Vinchin Backup & Recovery can help to easily archive them to Amazon S3 for long-term data retention, a policy for information security required in many companies and regions.Building a data protection center on cloud makes your essential old data unbreakable and always ready to be recovered, which cannot be hurt by any possible damage or disaster in the physical data center. You can simply archive your backups of these data to Amazon S3 using Vinchin Cloud Archive ensures their absolute safety.
Optimized Storage Space
Vinchin Backup & Recovery provides multiple data reduction technologies to reduce the size of initial backup data from the source end, which also helps save cloud storage if any of the backup needs to be archived to Amazon S3. Use Deduplication, Compression and Vinchin BitDetector for effective data reduction. With the storage-saving optimization task done in advance, Vinchin Backup & Recovery can now transfer the archived version of your backups to the cloud at ease. With smart retention policy available, you can also decide the number of preserved restore points for a single archive job, realizing advanced data protection on cloud.
High-Level Data Security
By utilizing multiple encryption techniques, Vinchin Backup & Recovery not only encrypts the data you want to archive beforehand during initial backup process, but also secures the whole archive process when data is being transferred to Amazon S3. Under the reliable support of dual data protection, the chance for eavesdroppers to access any of your archive data is zero. Also, password verification will be required for each encrypted archive restore job, making sure it can only be accessed and used by the right person.
Simplified Management
Vinchin Backup & Recovery provides a single web-based console to centralize the management of all data protection features. By logging in the console with a unique account, you can easily operate everything that links to cloud archive jobs and archive restore jobs, making connections between the backup system and cloud object storage close at hand. You can create a cloud archive job for existing backups of a single VM or a whole virtual infrastructure to automatically run once-off or by schedule per day, week, or month, or restore any old cloud archive to the on-premises backup repository for further use, which all require only 3-4 steps of straightforward configurations. You can also directly delete any full restore point stored in Amazon S3 without any extra interface needed.
Archive Data to Amazon S3 in Simple 4 Steps
Use Vinchin Backup & Recovery to archive your critical backups to Amazon S3 at ease.
Add Cloud Storage
Select Archive Source
Set Primary Strategy
Set Advanced Strategy
Restored archive data in the primary backup repository can be used for efficient Full VM Restore, Instant VM Restore, and Granular Restore after the same simple configurations in a few minutes.
FAQs
Frequently asked questions when archiving backups to cloud
Can I restore VMs directly with the backup archive data?
No. You need to create an archive restore job to restore the archive data to onsite storage first, then use the restored data to restore VMs.
Can I archive my file backups and database backups?
The answer is NO. Backup Archive feature can currently be used to only archive VM backups on Vinchin Backup & Recovery v6.5 and later versions.
Why I only got one full restore point of my VM backups after achiving? What happened to the incremental restore points?
Each backup archive job session will only send a latest version of full backup to the cloud object storage. If the lastest backup is incremental, Vinchin Backup & Recovery will transfer necessary data blocks of the backup chain to the cloud object storage to form a latest full restore point.
What are the differences between backup copy and backup archive?
Backup copy feature will make an exactly the same copy of your backups (VM, file and database backups) to another storage or to another location for disaster recovery, while backup archive only sends a latest full restore point (1 full restore point per job session) to the cloud object storage.
REQUEST DEMO
Learn more details about how Vinchin drives modern VM protection.
REQUEST PRICE
Interested to buy Vinchin Backup & Recovery? Request a quote here, we will contact you soon with pricing details.