Vinchin Blog
NAS vs. External Hard Drive: Which One Is Better for Backup?
NAS vs. External Hard Drive: Which One Is Better for Backup?
2023-03-30 | Echo
When your computer is running low on storage space, external hard drives and Network-Attached Storage (NAS) are great options to scale up your storage. External hard drives are small, portable, and easy to use, on the other hand, NAS devices are more user-friendly for non-techie than in the past and are attached with their backup features.

Which option is better for backup? If you're struggling to decide between an external hard drive and a NAS device for your infrastructure, it's important to consider your specific storage needs. Both options have their pros and cons, so taking the time to evaluate your needs and research your options will help you make an informed decision. Keep reading for details.
What Is NAS Storage?
Network-attached storage (NAS) is a file-based storage device connected to the network and allows multiple users to store, share and access files and data from a centralized location. NAS devices are typically used in the home or small office environments where there is a need for easy access to files and data from multiple devices. You can backup Windows to NAS and restore NAS easily.
There are various NAS brands and devices available in the market, and the two that come to mind first would be Synology and QNAP, but there are other popular NAS brands as well.
Common NAS Brands:

Asustor

Netgear

Seagate

Buffalo

TerraMaster

Western Digital (WD)
Popular NAS Devices in The Market:
Product

Drive Bays

Max Capacity (TB)

RAM

(TB)

USB Ports

M.2 Slots

Reference Price

Synology DiskStation DS1522+

5

/$150per

90

8 DDR4 (32 max)

2

2

$699.99

QNAP TS-453D-4G

4/$137per

72

4 (up to 8)

2

Optional via a PCle adapter

$419.99-$914.72

ASUSTOR Lockerstor 6 Gen

6/$134per

120 + M.2

8

Dual 3.2Gen

2

$459-$1,219

WD My Cloud EX2 Ultra

2/$89per

36

1

2

/

$189.99-$1,849.99

TerraMaster F4-423

4/$125per

80

4

2

2

$299.99-$499.99
Features:

Centralized storage: NAS provides a central location to store files and data that can be accessed by multiple users and devices.

User management: NAS devices often have built-in user management features that allow administrators to control access to files and data.

Data backup and synchronization: Many NAS devices offer built-in backup and synchronization features that can be used to protect data and keep it up to date across multiple devices.

Data security: NAS devices have built-in file system security functions and require a pin code to the mobile device each time one log in.

Remote access: NAS devices can be accessed remotely from anywhere with an internet connection, allowing users to access their files and data from outside the local network.

Media streaming: Some NAS devices have built-in media streaming features that allow users to stream music, movies, and other media to compatible devices.

Integrate with the cloud: Most cloud providers provide NAS services to optimize cost, management, and performance.

Data replication: Copy data from one disk to another in case of disasters due to RAID (Redundant Array of Independent Disks).
Pros:
Centralized storage: NAS provides a single location to store and manage files and data, making it easier to access and share information across multiple devices.

Scalability: NAS devices can be easily scaled up to accommodate additional storage or users as needed.

Connection: Can connect to different devices like computers, printers, USB cameras, and tablets and pair them together for performance.

Data protection: Many NAS devices offer built-in backup and synchronization features that can be used to protect data in case of hardware failure or other issues.

Accessibility: NAS devices can be accessed remotely from anywhere with an internet connection, providing convenient access to files and data while on the go.

Cost-effective: NAS devices are generally more cost-effective than traditional storage solutions like servers.
Cons:
Security risks: NAS devices can be vulnerable to security risks like ransomware attacks and human error if they are not properly secured and maintained.

Limited backup and recovery: NAS device users need to backup data through an installed OS and use a professional solution for data recovery after machine failure or power outage.

Limited expansion: While NAS devices can be scaled up to accommodate additional storage or users, there is a limit to how much they can be expanded considering the management complexity and costs.

Unstable speed: NAS is highly reliant on bandwidth, so it consumes a lot of network resources and can cause latency under high traffic.
What Is an External Hard Drive?
An external hard drive is a type of storage device that is designed to be portable and connect to a computer or other devices using a USB or other similar interface. These devices can be used for backup and storage of large files, such as photos, videos, music, and documents. You can use an external hard drive as a backup destination for Windows.
Common External Hard Drive Types:

Hard Disk Drive (HDD)

Solid State Drive (SSD)

Solid State Hybrid Drive (SSHD)
Common External Hard Drive Brands:
Western Digital (WD)

Seagate

Toshiba

LaCie

Samsung

Transcend

G-Technology

Adata

SanDisk
Popular External Hard Drives in The Market:
Product

Capacity (

TB

)

Connectivity

Type

Hard Disk Form Factor

Reference Price

Seagate Backup Plus

1, 2, 4, 5

USB

Portable

3.5

Inches

$80.56

-$219.99

LaCie Rugged Thunderbolt

2, 4, 5, 8

Thunderbolt, USB-C

Portable

2.5

Inches

$

240

-$449.99

WD My Book Duo

4, 6, 8, 12, 14, 16, 18, 20, 24, 28, 36, 44

USB

Desktop

3.5

Inches

$99.99

-$1,499.99

WD My Passport

1, 2, 4, 5

USB

Hard Drive

2.5 Inches

$49.97

-$108

WD Black P10 Game Drive

1, 2, 3, 4, 5

USB 3.0

Portable, Desktop, Gaming Console

2.5 Inches

$66.06

-$129
Features:
Portable and easy to use.

Large storage capacity.

Can be used with multiple devices.

Available in different sizes and designs.

It can be used for backup and file sharing.

Connect via FireWire or USB other than the internet.
Pros:
Data backup and security.

Increased storage capacity.

Portability and ease of use.

Can be shared among multiple devices.

No combability issues with the operating system.
Cons:
Limited sharing and access features.

It can be easily damaged, lost, or stolen.

Some models may require an external power source.

Slower data transfer speeds compared to internal hard drives.

Difficult or even impossible to recover data from defunct devices.

External hard drives can be expensive depending on the model and size.
NAS vs. External Hard Drive
| | | |
| --- | --- | --- |
| | NAS | External Hard Drive |
| Portability | Have to settle it down. | Designed to be as portable as possible. |
| Accessibility | By setting up your account, you can remotely access your files from any computer through NAS, which works with the cloud and allows you to backup your data and access it from anywhere with internet access. | External hard drives can provide you with convenient accessibility as you can easily connect them to any computer system and access the files stored in them without needing an internet connection as long as it is within reach. |
| Connection | In a work environment where multiple individuals may need to collaborate on a file simultaneously, accessing a NAS through all computers connected to the router network is beneficial. | While an external hard drive can only be used on one computer at a time, it is possible to simultaneously access its data from two different computers. |
| Features | NAS not only saves various data but also provides features such as backup and recovery, surveillance, email communication, and support for third-party apps. | External hard drives can hold multiple data formats like files, media, and documents, but they are just storage. |
| Storage Capacity | NAS provides more storage space that can be further extended, as NAS systems come with multiple bays allowing for up to 8 bays to be connected and expanding the NAS's capacity. | External hard drives have a fixed storage capacity that cannot be expanded, so when they become full, one must either delete unnecessary files to create space for new ones or purchase an additional drive to continue storing files. |
| Speed | Consumer-level NAS devices usually have a data transfer speed that ranges between 3MB/s to 20MB/s. | The data transfer rate of USB 1 is limited to only 12 MB/s, whereas USB 4 has the potential to reach up to 40 Gbits/s. |
| User Cases | NAS is the perfect solution for small businesses and homes with multiple computers, surveillance systems, gaming systems, and a large media collection that requires streaming across multiple devices, providing extra storage and file-sharing capabilities for all users. | Individuals who have only one computer may find it suitable to opt for an external hard drive. |
Which One Is Better for Backup?

Both NAS devices and external hard drives are viable options for backing up data, but the choice ultimately depends on your specific needs.
NAS devices are designed to be connected to a network, which allows multiple users to access the same data simultaneously. This makes them a good option for small businesses or households with multiple computers that need to share data. NAS devices can also be configured to automatically backup data from multiple devices on the network, making it a convenient option for those who need to backup multiple devices.
On the other hand, external hard drives are portable and can be easily carried from one location to another. They are typically plug-and-play devices that do not require any special setup or configuration. External hard drives can be a good option for individuals who only need to backup data from a single device and do not need to share the data with others.
But overall, it is a better choice over external hard drives because of central file management, scalability, enhanced data protection, and more for someone struggling with the choice, especially if they are looking for long-term and sustainable storage.
However, in terms of reliability, both NAS and external hard drives can fail, so it is important to have a backup plan in place, such as having multiple backups in different locations.
Reliable Backup Solution in Place
Vinchin Backup & Recovery is a good helper to streamline and automate backup and recovery for all NAS devices under CIFS and NFS protocols, 6 mainstream databases, Linux & Windows files/servers, and 12 virtual platforms like VMware, Hyper-V, Xen, oVirt/RHEV, etc.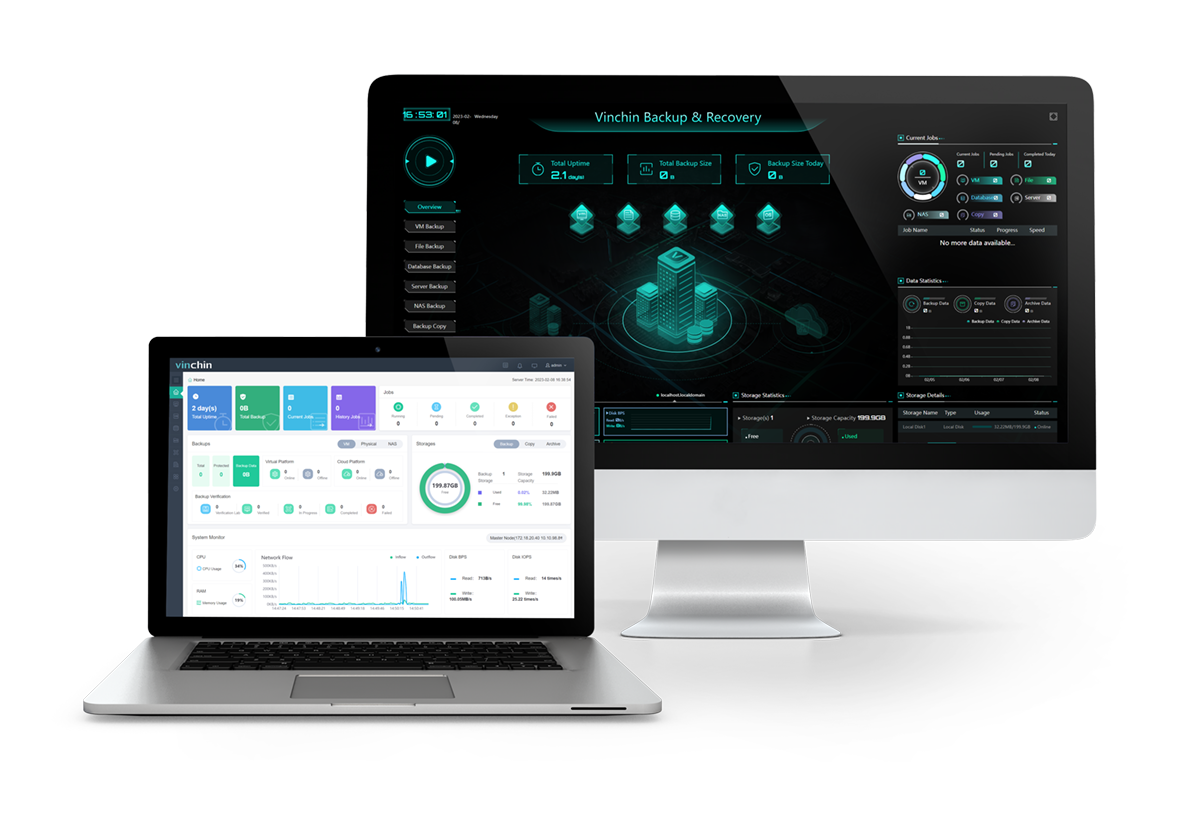 With the solution, you can get the following features:
Manage all data backups from different platforms in one console.

Accelerate backup through NFS/CIFS protocols and multi-threaded transmission.

Include and exclude NAS files through a wildcard.

Choose from Full, Incremental, and Differential backups.

Compress and encrypt data with the AES-256 algorithm.

Restore to the original NAS or a new destination.

Send an offsite backup copy or archive data to the cloud based on the 3-2-1 backup rule.
Besides that, you can secure your critical backups from ransomware via an IO monitor in real-time, agent-free V2V migration across 10+ virtualizations, etc., and download the 60-day free trial of the enterprise version to explore more.
Verdict
This post compares NAS vs external hard drives and explains what they are, their advantages and disadvantages, and which one is better for users in different situations. But note that external drives are vulnerable for business uses and NAS needs a professional backup solution like Vinchin Backup & Recovery that can cover all backup and recovery options in one software.
I agree that Vinchin can contact me by email to promote their products and services. I can unsubscribe at any time.
Thanks for subscribing! A confirmation mail has been sent to your mailbox, please check within 48 hours.
Get more ideas from Vinchin