Vinchin Blog
Vinchin Announces Support for Citrix Hypervisor (Formerly XenServer) 8.2
Vinchin Announces Support for Citrix Hypervisor (Formerly XenServer) 8.2
2020-09-18 | wuxinyu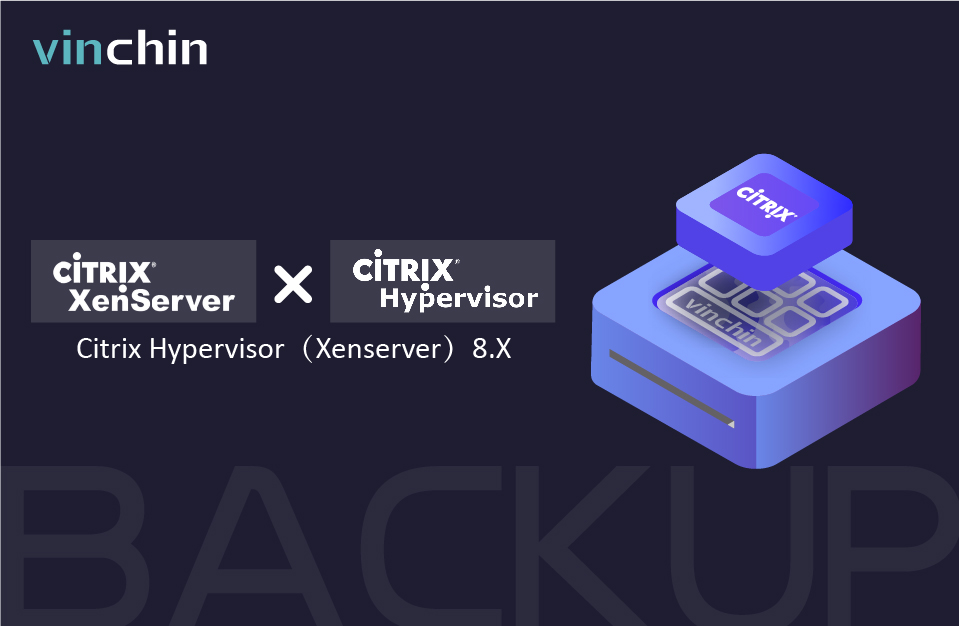 Vinchin, as one of the few backup vendors that support XenServer backup since XenServer 6.x, has recently updated its compatibility with Citrix Hypervisor newest version 8.2. On September 16, Vinchin released the new backup version - Vinchin Backup & Recovery v6.0, which can seamlessly integrate with Citrix Hypervisor (Formerly XenServer) virtual infrastructure, also officially announced its compatibility with Citrix Hypervisor version 8.2. If you rely on Citrix Hypervisor to help simplify your data center infrastructure, then with Vinchin, you can extend that simplicity to data management and recovery with our proven, Citrix Hypervisor-integrated backup solution.
Citrix Hypervisor's continuous evolution has taken us from the XenServer 7.1 Long Term Service Release (LTSR) to the name and platform change of Citrix Hypervisor 8.0, and now, to the release of the Citrix Hypervisor 8.2 LTSR. The new major version number signals the adoption of a new Linux kernel that lays a foundation for further innovation. The new platform opens the door for Citrix to continue to make this the best hypervisor for Citrix Virtual Apps and Desktops and a cost-effective and high-performance option for general-purpose workloads. Vinchin Backup & Recovery v6.0 enhanced integration with Citrix Hypervisor enables customers to leverage its new capabilities with performance optimized for Citrix Hypervisor 8.x and geared toward mission-critical enterprise backup solution.
High-intergraded data protection for Citrix Hypervisor 8.x

When Citrix transitioned from XenServer to Citrix Hypervisor, it moved over to a new platform with an updated CentOS user space and the latest Xen. When making this transition, Citrix Hypervisor 8.x adopted the new Linux kernel as an enabler for ongoing product innovation. Therefore, as the high-intergraded data protection for Citrix Hypervisor, focus on the new transition of the platform, Vinchin team updated a new backup patch of the Linux kernel for Citrix Hypervisor 8.x. which really achieves high compatibility.
Backup via master node under XenCenter pool environment
Since the release from XenServer 7.1 to now Citrix Hypervisor 8.2, Citrix has increased the pool size by 4x. This increase means that you have fewer pools to manage, flexible in-pool migration with shared storage, and improved High Availability. Vinchin Backup & Recovery v6.0 can not only back up VMs of a standalone Citrix Hypervisor host but for the level of pool environment also can back up VMs via a master node under the XenCenter pool environment.
Backup XenServer with vGPU enabled and Agentless Backup
In Citrix Hypervisor 8.x, Citrix released support for disk and memory snapshots for vGPU-enabled VMs (Premium Edition). As Vinchin Backup & Recovery is an image-based backup solution, as a result, it now can back up your XenServer VMs by creating snapshots even when vGPU is enabled. Also, it's not required to install any backup agent on the guest OS, Vinchin backup server will directly access the hypervisor layer to abstract data which leads to a zero consumption of OS resources.
Backup business data stored in GFS2 storage
Citrix Hypervisor 8.x also has supported to create VDIs greater than 2 TiB (Premium Edition), which allows you to also create virtual disk images on GFS2 SRs that are larger than the previous 2 TiB limit. Since Vinchin Backup & Recovery previous version only can backup data stored in Master Boot Record (MBR) format storage, we did a compatible test with the GFS2 storage and now business data storing in the GFS2 storage can be also backed up using Vinchin Backup & Recovery v6.0.
From an independent tool, Vinchin offers comprehensive data management capabilities including data backup, recovery, migration, disaster recovery, compliance, and legal holds. Leverage the advantages of Vinchin Backup & Recovery v6.0 and extend your infrastructure throughout your enterprise with Citrix Hypervisor 8.x anywhere. It's designed to comprehensively protect your business data – wherever your data lives.
I agree that Vinchin can contact me by email to promote their products and services. I can unsubscribe at any time.
Thanks for subscribing! A confirmation mail has been sent to your mailbox, please check within 48 hours.
Get more ideas from Vinchin